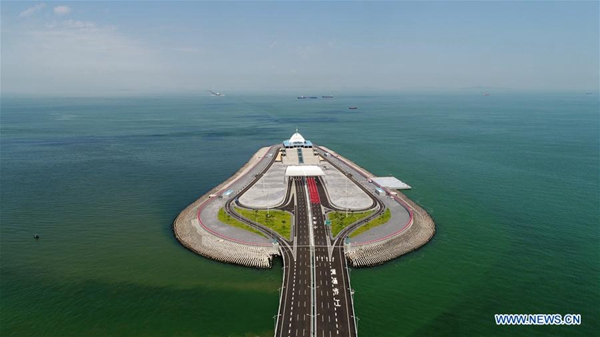 Pursuing innovation-driven and integrated development is of vital importance in building the Guangdong-Hong Kong-Macao Greater Bay Area into a world-class smart city cluster, according to Gu Qiang, head of the Industry Research Institute under the China Fortune Land Development (CFLD) Co. Ltd..
Gu made the remarks at the Caixin Guangdong-Hong Kong-Macao Greater Bay Area Forum held in Shenzhen, Guangdong province, July 4-5.
With a theme of "integrating with a new impetus and starting a new journey," the forum attracted leaders, analysts and experts from financial industry, scientific and technological innovation circles, along with many others coming from across the country.
In a warm and vivid atmosphere, every speaker was encouraged to freely express their views at the forum. Participants engaged in-depth discussion on "finance plus scientific and technological innovation", a highly-integrated approach in tapping the full development potential and opportunities of the Greater Bay Area.
Gu believed that a team of professionals and capable working staff was very necessary in enhancing core competitiveness of the Greater Bay Area. He put forward four suggestions in pursuing innovation-driven and integrated development.
First was to improve the functions of cities, with the optimization of the urban spatial structure being particularly important. Gu cited a set of statistics to illustrate this point.
"The commuting circle in Guangzhou [the provincial capital] and Shenzhen covers 38 million people and 22 million people respectively, and the two cities account for about 50% of the total area of the Pearl River Delta and 71% of the total GDP of the economic zone.
"Guangzhou and Shenzhen play a leading role in the development of the Greater Bay Area, so the scientific and technological strength and innovation capacity in these two cities should continue to increase," Gu said.
Second was to encourage more professionals and highly talented people to pursue start-ups by delivering real benefits to them.
Third was to use the capital chain to shape an overall industrial innovation chain.
Fourth was to promote a coordinated and balanced development of the Greater Bay Area by considering six factors: openness, service, population, innovation, capitals and industries.
Gu also stressed the importance of building an ecologically-friendly smart city cluster and improving public cultural facilities in this process.