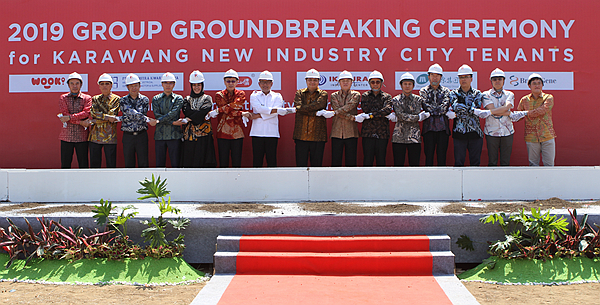 CFLD International, an end-to-end master planner, creator and operator of full-scale New Industry Cities, marked its continued progress around Asia with a ground-breaking ceremony for its Karawang New Industry City (KNIC) project in Indonesia on June 20.

Strategically located 47 kilometers east of the capital, in the heart of the Jakarta-Bandung economic corridor, the 205-hectare KNIC features world-class infrastructure, digital connectivity, facilities and amenities specifically designed for industries covering food, automobiles and motorcycles, consumer electronics and building materials. It also houses innovation parks for small and medium enterprises (SMEs).
The ceremony was attended by more than 200 guests, partners, tenants and officials including Indonesian Minister of Industry Airlangga Hartarto, Ridwan Kamil, Governor of West Java, Wang Liping, minister-counselor of the Economic and Commercial Counselor's Office of the Embassy of China in Indonesia; Dito Ganinduto, chairman of Commission 6 of the People's Representative Council of Indonesia, Wisnu Wijaya Soedibjo, deputy chairman of the Indonesia Investment Coordinating Board (BKPM) and Cellica Nurrachadiana, regent of Karawang Regency.
Already, more than $100 million of investment has been committed from nine regional and international tenants and partners. They include PT Wook Global Technology, PT Ikimura Indotools Centre, PT Ruiyuan Karawang Industrial Innovation and Development, PT Wonderful Food International, PT Brightgene Biomedical Indonesia, PT Binamitra Kwartasedaya, Zhengjia Henglin Co. Ltd., PT Sandin Heavy Equipment, and Dongguan JiaYaoXing Packing Products Co. Ltd. Approximately 4,000 local jobs are expected to be created from this tranche alone.
KNIC is fully aligned with the local government's commitment to economic and social progress. When fully completed, it is expected to create 40,000 local jobs, while contributing $12 million in annual local taxes.
Industry Minister Airlangga Hartarto said: "Today marks a significant milestone for both CFLD International (Indonesia) as well as Indonesian industry. KNIC is playing a strategic role in encouraging industrial growth in this region.
"Moreover, this region is directed towards Industrial Estates 4.0. With the development of fairly progressive tenants, we believe this region is able to create many high value jobs and attract investment, thus creating a multiplier effect that drives economic growth in Karawang and its environs. We hope that KNIC will increasingly improve their services to industrial companies and support improvement of the quality of competent industrial human resources."
Ridwan Kamil, governor of West Java, said: "The development of KNIC in Karawang further underscores West Java's position as one of the key industrial hubs of Indonesia. As the 25th industrial zone in West Java, KNIC will create gainful employment and facilitate knowledge-sharing for our community and further stimulate the local economy.
"This will also naturally bolster investor confidence in our region and Indonesia. We look forward to working with CFLD International and its partners in KNIC to form a catalyst for the national push towards Industrial Estates 4.0."
Spokesperson of CFLD International Zhao Hongjing said: "We are very pleased with the project progress and the momentum of new customers at Karawang. The strong, positive response to our New Industry Cities, both here and elsewhere involving our various stakeholders speaks volumes for the differentiated business model at CFLD and our ability to deliver win-win outcomes for all.
"Through our unique integration of work-live-play with the express focus on developing industry, companies can optimize their operational efficiency and business growth. At the same time, this will be a catalyst for the local economy and benefit communities."
Yu Ruisheng, chairman of Qingdao Ruiyuan Engineering Group, said: "Karawang New Industry City occupies an advantageous location with well-rounded infrastructure. As the leading New Industry City operator, CFLD has been committed to the investment, development, construction and operation of New Industry Cities for 20 years with truly remarkable achievements. We are honored to work with CFLD International to jointly develop this industry park."
KNIC is one of the projects currently being undertaken by CFLD International, along with Tangerang New Industry City, also in Indonesia, and Nhon Trach New Industry City in Vietnam.
CFLD International is the international arm of CFLD, which has a strong track record of NIC development and operation. As of the end of 2018, its projects in more than 80 areas had attracted over 2,000 enterprises, generating 105,000 new jobs, contributing US$23.7 billion in GDP, and attracting cumulative investments of US$76.5 billion.
Karawang is at the heart of the Jakarta-Bandung economic corridor that connects two major cities in one of the world's fastest growing economies. With integrated transportation links, it has been a preferred location for global manufacturers, as well as one of the government's prioritized regions for strategic infrastructure development.
More than 10,000 companies and manufacturers, including eight of the top 10 consumer electronics companies and five of the top 10 fast-moving consumer goods (FMCG) companies in the world, operate in Karawang.